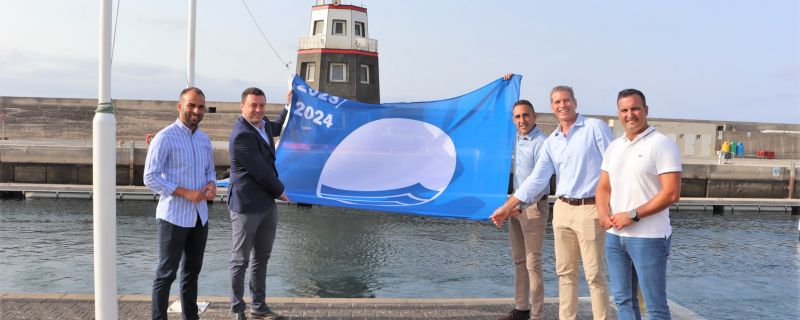 Puerto Calero retains its international renown with another year's conferment.
Mustering on the quay in Puerto Calero on the morning of Monday 3rd July, Managing Director of Calero Marinas, José Juan Calero together with Alejandro Betancor, Manager of Puerto Calero, met with the Mayor of the municipality of Yaiza, Óscar Noda, the Councillor for Tourism and Beaches, Daniel Medina, and the Councillor for Sports, Ángel Lago, for the traditional ceremony of hoisting the new Blue Flag.
This award signifies that Puerto Calero complies with the requirements imposed by the Association of Environmental and Consumer Education (ADEAC), as a safe and secure facility, ensuring clean waters and maintaining a level of respect and stewardship of the environment and local surroundings, as well as carrying out environmental education and conservation activities.
Puerto Calero is the only marina to receive this accolade in the island of Lanzarote; being one of only four in the whole of the Canary Islands.
It should be noted that each year the bar is being raised in terms of necessary criteria for being awarded the Blue Flag, bestowing even great prestige upon this international award.