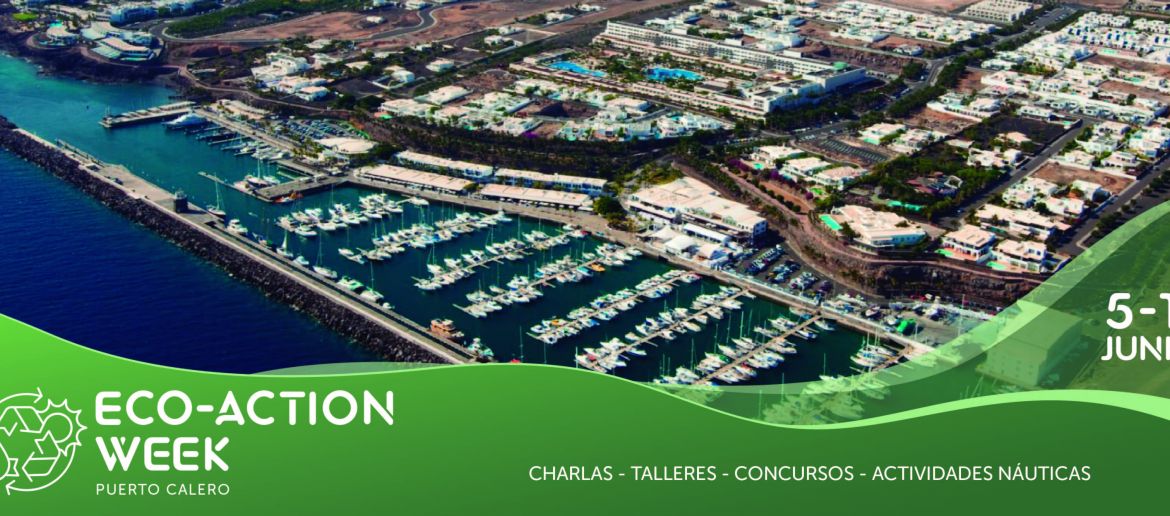 Although the Puerto Calero destination is well known for its high level of environmental awareness, this June, coinciding with World Environment Day and World Oceans Day, the destination's operators have joined forces to celebrate, raise awareness and promote environmental stewardship, with an exciting programme of free activities for everyone, ranging from talks by naturopathy practitioners, km0 gastro and photography competitions, painting workshops for children, sailing trips on J80s and a coastal clean-up, among others.
All the activities in the event are free. To sign up, click on the following link.
The event programme is as follows:
Sunday 5th June. World Environment Day.
The Hotel Secret Lanzarote will launch its photo competition on Instagram
Monday 6th June
12:00 – 13:00 Aloe vera workshop: how to cut the leaves, tasting aloe juice, together with a talk about aloe products. Lanzaloe – Plaza de Las Carpas. This workshop will take place every day from the 6th – 10th June.
16:00 Talk "Discovering the subaquatic world" by Calero Diving, in the Plaza del Arte.
All day: Ocean Pledge Panel by Submarine Safaris. This activity will be repeated throughout the week.
Tuesday 7th June
11:30 Talk on health and the environment, by naturopathy practitioner Marta Benincá – Parafarmacia Puerto Calero
17:00 – 19:00 Open day: Global Training and Aqua Gym – Puerto Calero Sports Club.
Wednesday 8th June. World Oceans Day
11:00 Hoisting ceremony of Puerto Calero's Blue Flag by the Mayor of Yaiza, Óscar Noda, at the Inner Dock in Puerto Calero.
12:00 Gastro competition Puerto Calero Eco Action Week in the Plaza de las Carpas.
Thursday 9th June
11:30 Talk on health and the environment, by naturopathy practitioner Marta Benincá – Parafarmacia Puerto Calero
16:00 Workshop: "Introduction to underwater photography" by Calero Diving in Local 13, on the first floor of the Antiguo Varadero building in Puerto Calero.
Friday 10th June
16:00 – 19:00h Open Day Club at Club Deportivo Código Cero. Sail a J80.
Saturday 11th Jun.
9:00 – 11:00 Coastal clean-up
10:00 Children's painting competition with Sea Safaris and Café de La Plaza.
Gastronomic competition km0 and Gastronomic Judge for a day
One of the week's highlights will be the km0 cooking competition featuring seven of the best restaurants in Puerto Calero: Coentro, La Taberna del Puerto, Ropa Vieja, Natural Nada Más, Pelícano, Minato and Oceana, from Secrets Lanzarote. Chefs from these seven restaurants will present their best work to the jury, focussed on Lanzarote products, next Wednesday the 8th, coinciding with World Oceans Day and will be included as chef's recommendations in each of the restaurants from Thursday 9th to Sunday 12th June.
But public participation is not to be limited to merely spectating the contest; Puerto Calero is launching a competition entitled "Gastronomic judge for a day" via Instagram, where users can try to become one of the judges. The winners (two people will be chosen from those participating in the Instagram contest), will not only have the opportunity to taste these seven gastronomic delights, but will also win a night at the Secrets Lanzarote hotel and a dinner for two at the winning restaurant of the contest. The rules of this competition will be published today, Wednesday, on Puerto Calero's Instagram page.
Photography competition.
For photography enthusiasts, Secrets Lanzarote will be running a competition on its Instagram profile during Puerto Calero Eco Action Week. The photo of the event that gets the most likes will have the chance to win a night's stay at the prestigious five-star hotel in Puerto Calero on an all-inclusive basis.
Coastal clean-up.
Thanks to the collaboration of the Yaiza town council, particularly the Environment department, together with Secrets Lanzarote, Puerto Calero will organise a coastal clean-up from the Secrets Lanzarote hotel dock, on Saturday 11th June from 9:00 to 11:00.
Puerto Calero operators such as the Hotel Costa Calero, Acumass and Submarine Safaris are joining in this coastal clean-up with prizes to be raffled among the volunteers.
The Costa Calero Hotel will also provide picnics to volunteers.
To close the event, there will be a musical performance at the Plaza Las Carpas in Puerto Calero.