Berthing Services in Marina La Palma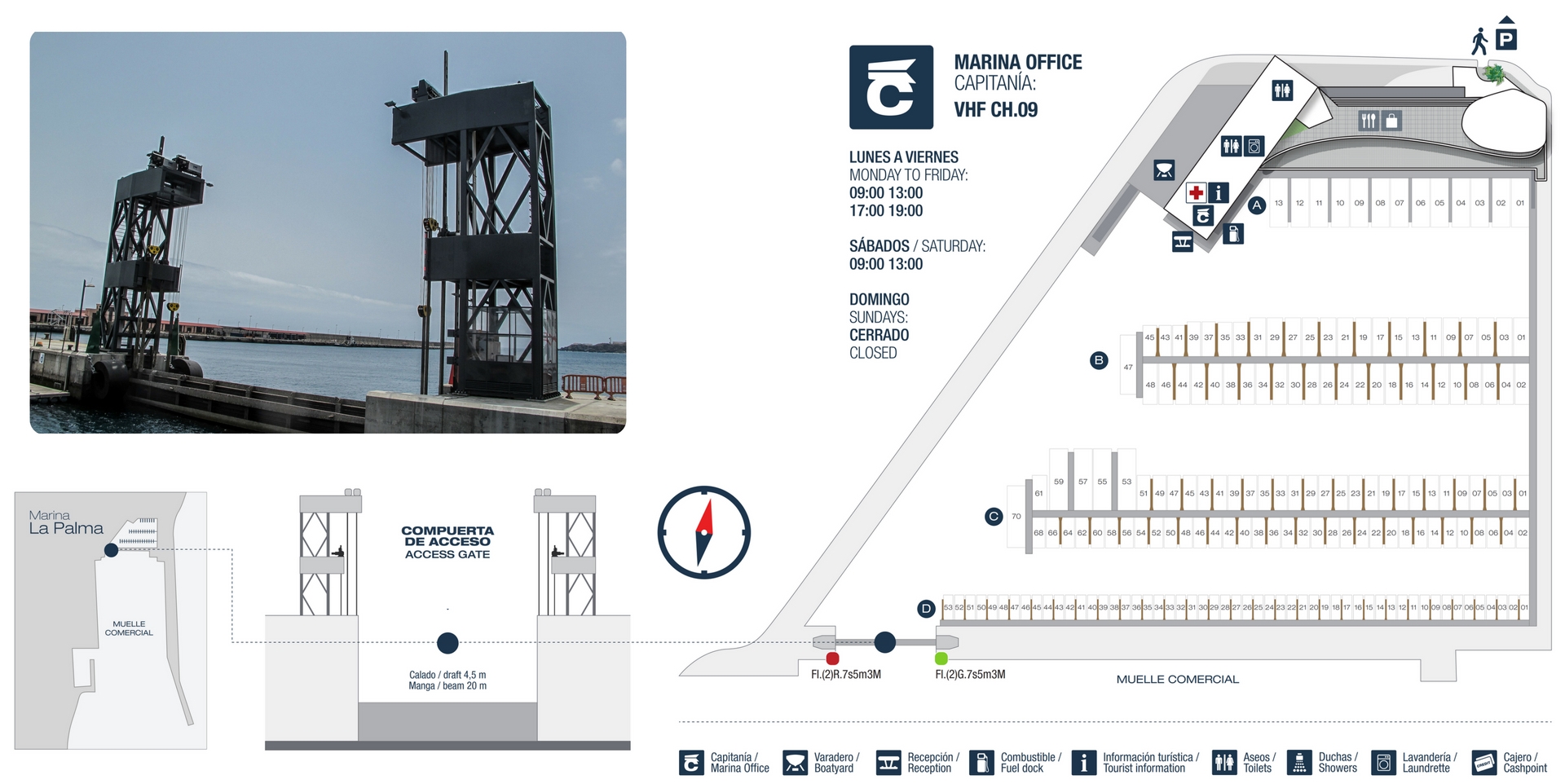 In the event of an emergency, please inform a member of the marina team on VHF Ch. 09
Marina Office
The marina office can be found just above the arrivals pontoon and is open from Monday to Friday from 9am – 1pm and then 5pm – 9pm. On Saturday, morning hours are from 9am to 1pm. Sundays closed.  Here you can book in, obtain wifi access, borrow luggage trolleys, rent storage rooms, request a laundry service and ask for information and assistance.
Tel: +34 922 410289 / info@marinalapalma.es
Berthing services
The marina has 180 berths sized between 8 and 20m with over 100 berths for visitors. Each berth has access to water and electricity. Depending on the size of the berth, the connection is either single or three-phase. If you need a hand with adapters, etc., please ask in the Marina Office.
Showers
Marina cards provide access to the showers which are reserved for berth-holders only. Should you lose your card, please ask for assistance in the Marina Office.
Laundrette
Marina cards provide access to the showers which are reserved for berth-holders only. Should you lose your card, please ask for assistance in the Marina Office.
Post and Package receipt
Post can be received in the marina office. Please try to advise staff however if large parcels are expected and try to sort out any customs charges in advance since it is difficult to accept parcels if unexpected payments are required.
The address for delivering post is as follows:
[Your name] [Boat name] Oficina de Capitanía de Marina La Palma
Dársena de embarcaciones menores del Puerto de Santa Cruz de La Palma
38700 Santa Cruz de La Palma
La Palma
Canary Islands
Spain
Marina Office Tel: +34 922 410289
Customs and Immigration
For vessels in transit needing customs assistance with importing parts into the Canaries and help with transport, please contact the company Feligar. Tel: +34 922 412389 – feligaragenciadeaduanas@gmail.com. Should you need passports stamped having arrived in Lanzarote from outside Europe and leaving by plane, or travelling on a visa, etc. the Border Police office is located in Santa Cruz de La Palma Port Terminal and open weekday mornings until 2pm. (Each passport holder needs to be present.)
Visitor and Travel Information
The local Tourist Information Office can be found in the Plaza de la Constitución (opposite the Post Office ("Correos") about 3 minutes' walk from the marina.  Opening hours are from Monday to Friday 9am -2pm / 4.30pm – 7.30pm, Saturdays 9am -2pm. (Closed Sundays and bank holidays).
Tel: +34 922 412 106 oficinadeturismo@cit-lapalma.com
Marina Code of Conduct
In the interests of maintaining a safe and comfortable haven for all visitors and resident berth-holders, a summary of the basic norms in the marina has been included in this information on berthing services and is set out below.
This is a marina within a Biosphere Reserve. We kindly ask visitors to show consideration to other users and the local environment, observing the guidelines below:
Be aware of the location of emergency assistance (fire extinguishers, defibrillator and life rings.)
Avoid allowing waste or contaminants of any type to enter the water.
Dispose of rubbish and hazardous waste using the services provided.
Take care not to cause a disturbance to others (loud music, engines left on, banging halyards, etc.)
Help us by reporting any accidents, water leaks, structural disrepair or oily residues in the water.
Avoid obstructing pontoons with outboards, bicycles, or auxiliary vessels, etc.
Respect other boaters by keeping the pontoon doors closed.
Follow the Marina regulations and Environmental code of conduct.
The marina management reserves the right to refuse entry to any vessel not complying with these directives. Vessels found to be polluting the waters with contaminants may be prosecuted.