28 40.672 N   17 46.077 W
Approach
Marina La Palma is located within the Port of Santa Cruz de la Palma, at the head (N) of the basin. The end of the main port breakwater is identified with 8m green tower light: Fl.G.5s16m5M.
The Port receives both passenger ferries and cargo traffic and so upon approaching the port (or leaving the marina), vessels should call the Santa Cruz de La Palma Port Control on VHF ch.06.
A new 14m-high steel gate now frames the marina entrance. This is clearly lit at night and can be identified at all times via a green/red traffic light. If the red light is showing, the gate is either closed or being operated, meaning that access is not possible. Please call Marina La Palma on VHF ch09 (24/7) to request entry. The operation procedure takes approximately 8 minutes. The entry now measures 20m wide with 4.5m depth at lowest tide.
Once the light is green and you have received permission to enter, please proceed towards the reception pontoon, just opposite the entry and below the marina office, where dock staff will come and help take your lines.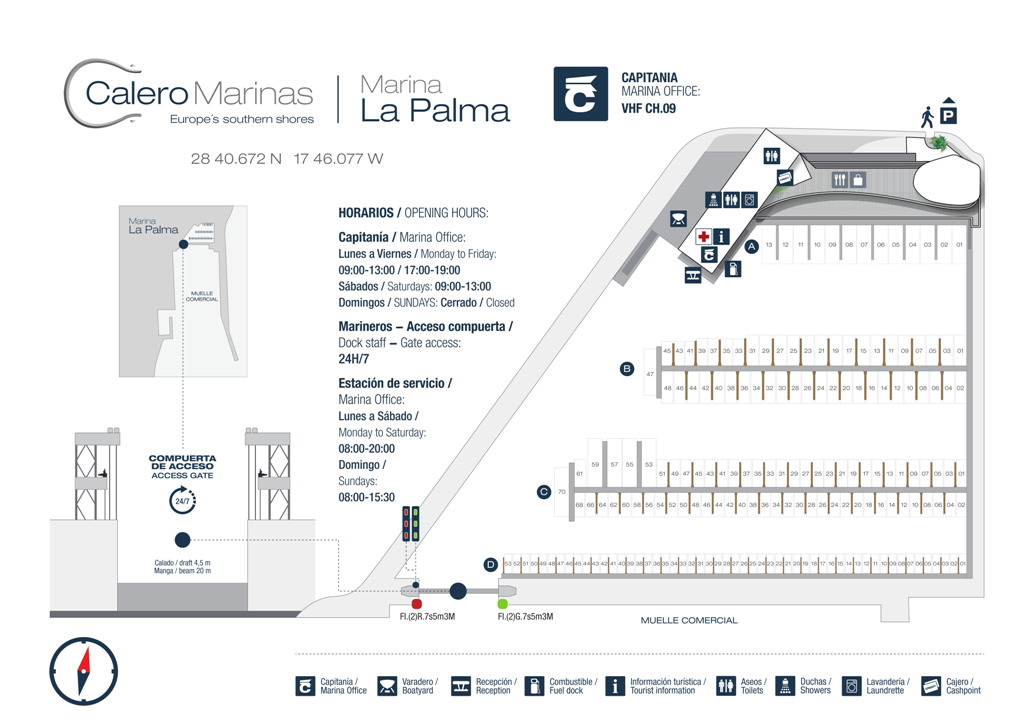 Contacting the Marina
Please call on VHF ch.09 to communicate entry and dock staff will meet you in the marina to help with lines. (Marina Office tel nº: +34 922 410 289)
Reception dock
The marina office is straight ahead as you enter the marina, with the visitors' alongside floating pontoon situated in front of it.  The fuel dock can be found on the right side of the marina building to the right of the visitors' dock.
Entry Documentation
The Entry form for Marina La Palma will need to be completed either beforehand or in the marina office and given to the marina staff who will also request copies of the boat registration document, boat insurance and passport of the owner/skipper.
Opening hours
Marina Office hours:
Monday to Friday: 09:00 – 13:00 / 17:00 – 19:00
Saturdays – 09:00 – 13:00
Sundays – Closed
Dock staff hours: 24H/7
Fuel dock hours:
Monday to Saturday 08:00 – 20:00 / 08:00 – 15:30 Sundays.